The Life of Frederick Ward and Family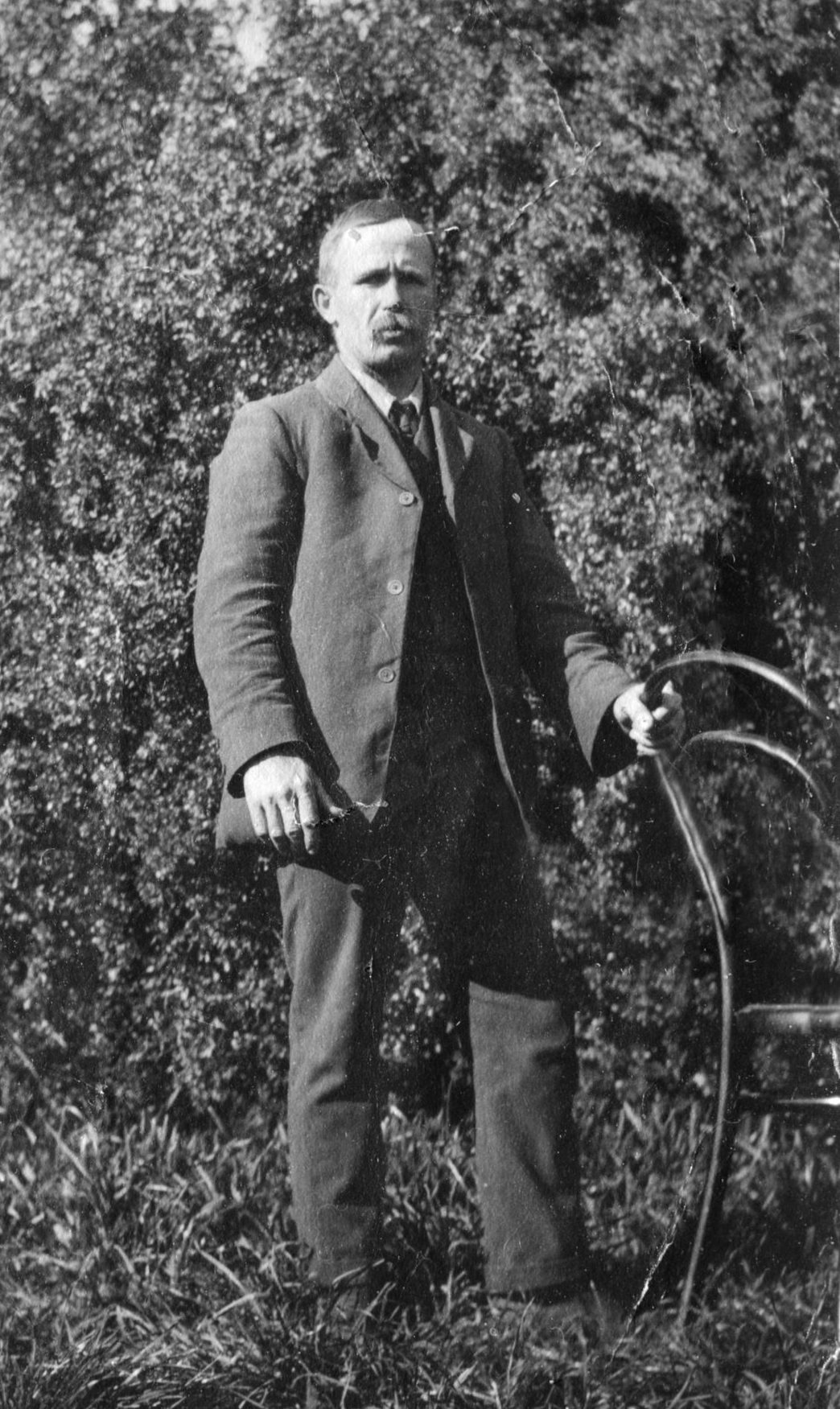 The following italic text is taken from an interview with Bill Ward in 1976 typed up by Patrick Heremaia and added to our family tree. It gives valuable information about the main events in Frederick Ward's family life. However much of the information is based on Bill Ward's early memories, and some would be from family stories about things he would be too young to remember. Hence I have endeavoured to verify, expand and/or correct this information where possible.
We are uncertain as to when Frederick was born but it must have been between 1880 and 1890.
We now know is date of birth was November 2 1882. This information was obtained from the Lincolnshire parish register, corroborated with age information from the England Census records.
Frederick emigrated with his wife Lillian Scott and his children, Betsey, Bill [William], and Maud in 1914 on the ship "Ionic". Bill Ward told us that his father Frederick had left Kirkstead after an argument with his father William Ward.
In 1911 Frederick Ward was living with his wife Lillie and their daughter Betsey Skipworth Ward, aged 10 months in Witham Rd, Kirkstead according to the census records. Kirkstead is a small village just outside of Woodhall Spa. They were living next door to Frederick's brother Robert, and close to his family and other siblings.
The "Ionic" landed in Lyttleton. Frederick, Lillian and family were met at the wharf by Frederick's nephew, George Skipworth who had emigrated earlier to NZ. [George's mother was Bill Ward's aunty, Betsey Ward].
William Ward's wife Betsy Ann's maiden name was Skipworth (this is on Frederick Ward's death certificate). This was also Frederick Ward's daughter Betsy's middle name.
However Bill Ward's "Aunty Betsey" (Frederick Ward's sister) was not a Skipworth, in fact her married name was Keyworth (she married Arthur Keyworth). The George Skipworth referred to was actually from Frederick's mother's family.
This document gives a comprehensive genealogy of the Skipworth family of Halton Holegate: http://www.genealogy.ianskipworth.com/pdf/skipsjohnhalton.pdf
Of particular interest is the following part of the family tree:
William SKIPWORTH of Billinghay was baptised on 19 Apr 1829 in Halton Holegate, and was buried aged 80 on 13 May 1909 in Canwick Road cemetery, Lincoln.

William married Betsey KEY in 1849 in Sleaford RD.
Betsey was born about 1824 in Billinghay and died aged 49 in December quarter 1872, Sleaford RD, and was buried at Halton Holegate.

Their children were:

112 i. John James SKIPWORTH 1851 – 1922 railway worker Bardney, Saxilby,
married 1876 Mary Ann CLIPSHAM (1856-1878), remarried 1879 Jane OXBY

Mary Jane SKIPWORTH

1877 –




2.

Samuel Gervase SKIPWORTH

1880 –




3.

George Frederick SKIPWORTH

1883 – 1883




4.

Edith Rebecca SKIPWORTH

1884 – Saxilby




5.

John Henry SKIPWORTH

1887 – 1916




6.

Frederick William SKIPWORTH

1890 – Saxilby




7.

Alice Mary SKIPWORTH

1893 – Saxilby

113 ii. Frederick SKIPWORTH 1854 – 1917 emigrated to Invercargill, NZ c1877,
married Maria JOSS in 1878, NZ

Betsy Ann Key SKIPWORT

H 1879 –

John SKIPWORTH

1880 – 1955 Invercargill




3.

Mary SKIPWORTH

1883 –




4.

Charles Frederick SKIPWORTH

1885 – 1964 Invercargill




5.

William SKIPWORTH

1887 – 1935 Invercargill




6.

Maria SKIPWORTH

1889 – 1970




7.

Martha Lily SKIPWORTH

1892 – 1982




8.

Hannah Emma SKIPWORTH

1894 – 1976




9.

Edward Stephen SKIPWORTH

1896 – 1961,  Christchurch, Policeman




10.

George SKIPWORTH

, MBE, 1898 – 1983,  Invercargill, Insurance Mgr




11.

Annie Key SKIPWORTH

1903 – 1967

114 iii. Mary Ann SKIPWORTH 1856 – 1878

115 iv. Betsey Ann SKIPWORTH 1859 – married in 1880

116 v. Jemima SKIPWORTH 1861 – married John ASHBY in 1882

117 vi. William SKIPWORTH 1865-1866, buried Halton Holegate
Betsey Ann Skipworth was born in 1859 and married in 1880. William Ward's wife Betsy Ann was 21 in the 1881 census (giving a birth year of around 1860) and her birthplace was given as Holegate. In the England & wales marriages there is a record of a marriage between Betsy Ann Skipworth and William Ward in 1880. From this information we can be fairly certain that the Betsey Ann Skipworth listed in the Skipworth family tree was Frederick Ward's mother. This evidence is strengthened by that fact that descendants of the Skipworth family are DNA matches with Bill Ward descendants.
George Skipworth was Frederick Ward's cousin (being the son of Frederick Skipworth, his uncle). George Skipworth would have been 16 and attending technical college in Invercargill at the time the Ward family landed in Lyttleton. This must have been the man who is named as having met the Ward family at the wharf when they landed.
Mary Ward was born about 6 weeks after the "Ionic" landed at Lyttleton.
Frederick and his family went to live in Invercargill at Nightcaps on George Skipworth's farm for about a year.
George's father Frederick Skipworth was a farmer at Spar Bush (some 40km from Nightcaps). Snippets from the Southland Times place the family there as early as 1909. However there doesn't seem to be any direct connection between the Skipworths and the Nightcaps. George himself does not seem to have been involved in farming, but was attending technical college and later living in Invercargill. Frederick Skipworth was born in Spilsby, Lincolnshire and immigrated to New Zealand some time before his marriage to Maria Jose (or Joss) in 1879. They had 4 girls and 5 boys, George being the youngest. Frederick Skipworth died in June 1917. George lived in Invercargill his whole life and received an MBE to recognise his services as a JP. He died fairly recently, in 1983.
On Mary Ward's birth certificate (19th February 1914) Frederick Ward's address was given as Avondale Station, Nightcaps. Avondale Station was a large sheep station situated between the Aparima River and the Taringatura mountains. It was subdivided several times since 1903, so there would have been several smaller properties in this area in 1914. It was situated 25km from Nightcaps town, but was often described as being in the Nightcaps district.  I'm unsure why Bill Ward thought the family had been living on George Skipworth's farm. Maybe his memory of this time was incorrect (in fact he was only a small child at the time so would have been relying on information passed to him from other family members). Or maybe there is more to this story than I have been able to uncover – for instance perhaps one of the  Skipworth children was also working at the same farm.
Uncle Harold told Frederick about a sharemilking job at McKennah's farm in Kakaramea, Taranaki. In 1915 Frederick moved up to the North Island to Kakaramea. He began sharemilking with Kate Grey, Lillian Scott's sister on a farm down Whitehead's Lane.
Frederick Ward can't be found in the 1914 electoral roll, but in the 1917 WWI Reserve Rolls he appears as a sharemilker living in Kakaramea. Kate and Harold Gray were sharemilkers living at Kakaramea on a property called "Cloverdale". Kate Gray's maiden name was Richardson, she was born in Horncastle in 1879 and married Harold Gray in High Toynton near Horncastle in 1904. Her father is listed as William Richardson in the marriage record, however on the 1881 census she is aged 1 and listed as a granddaughter of William and Elizabeth Richardson (Lillian Scott's grandparents), and also at age 11 in 1891 (this particular record appears in FindMyPast but not Ancesry). Is seems likely that Kate is the daughter of Elizabeth Richardson (Lillian's mother), born a year before her mother's marriage and brought up by her grandparents. Whether she is a full sister or half sister to Lillian is unknown, but she seems to have been happily accepted as a sister by Lillian, and Lillian's other New Zealand sister Mary Dolman. Interestingly, she gave her maiden name as Scott on her son's marriage certificate.
Frederick lived in Kakaramea for 2 to 3 years. Frederick and Lillian moved north around about 1918 with their family to work on a farm owned by Tom Struthers, between Hawera and Normanby.
Tom Struthers owned 150 acres of an estate called Hirstlands that had been subdivided in 1908. This property was on Whenuku Rd, adjacent to the cottage that Bill Ward had pointed out that he lived as a child. Tom Struthers is mentioned in the will of Frederick Ward. In a handwritten note he says that he desires his wife to "obtain a copy of his agreement with Mr Struthers and to enjoy all my benefits thereunder". There are no details of the nature of this agreement. In 1919 Frederick and Lillie Ward are listed on the Electoral Roll as, Frederick as a sharemilker, living at Hirstlands, Normanby.
Frederick died of double pneumonia on the 20 June, 1920 and was buried at the Hawera Cemetery. Ethyl was about 6 weeks old then. She was born in the Normanby Nursing home 6 years younger than Mary. Bill said that his mother Lillian had about $11,000 [pounds] when his father died.
Aunt Mary was living with his mother & the family in Normanby and she was the one who persuaded his mother to return to Kakaramea to buy Lord's farm opposite the Kakaramea Dairy factory. Lillian and family moved back to Kakaramea buying the farm and purchasing stock for the farm. Bill said that uncle Will and Aunt Mary were to manage the farm. Aunty Mary, Lillian's sister was a very domineering person compared to her docile husband, uncle Will and she dominated the household. Uncle Will was a qualified boilerman and he worked at the Kakaramea cheese factory opposite the farm
Frederick died on 20 Jun 1920 at Hawera Hospital – cause of death pneumonia (duration 7 days). There is no birth record to be found for Ethel Ward, though she was aged 10 at her death in August 1930, and she was aged 8 years 3 months in February 1928 according to enrolments at Kakaramea School found in the Patea Mail (Papers Past), which would put her date of birth in November 1919. Perhaps she was 6 months old rather than 6 weeks old at her father's death, but the newspaper report could just as likely be incorrect.
Aunt Mary is Lillian Scott's sister Mary Ann Scott, who was born in Hemingby around 1892. It is unknown when or how she arrived in New Zealand, but she married a man called William Dolman in July 1919. William Dolman was born in England in 1882 (given as 1885 on his military records) and had worked in dairy farming with the Grays at Cloverdale before the war. He served in WW1 from 1915 until 1919 and was awarded the Military Medal for gallantry in the field at La Basseville. William and Mary were married not long after his return from the war. In the 1919 electoral roll they were living in Eltham where William was working as a Cheesemaker.
In the 1922 Electoral Roll Lily Ward, widow, was living at Glen Bervie, Kakaramea. Mary Ann and William Dolman were also listed at this address (William's occupation is given as farmer). "Glen Bervie" is described as Mrs A.M. Lords' residence in the Patea Mail, 1929. The Kakaramea Co-operative Dairy Company (possibly what was referred to as the Kakaramea Cheese Factory) was located on Kakaramea Rd, just south of the township, so perhaps "Glen Bervie" (or "Lord's Farm") was also on Kakarama Rd.
Mrs. Dowden was the wife of the 1st assistant of the Dairy factory and teacher at the Kakaramea school.
Alexander John Dowden was a cheese packer at Kakaramea, his wife was Katherine Elizabeth Dowden. There is a mention of a Miss Dowden in the report in the School Prize Giving and Concert report Patea Mail for 20 December 1926.
There was dissention over the farm, so a court case was held and Lillian won. Lillian sold the farm and bought the cottage down Whitehouse lane. Mary began working at the Patea hospital when Lillian was there. The old house was taken over by the Jones family.
In 1928 Lillian Ward and the Dolmans are listed in the Electoral Rolls as living in Kakaramea with no more details given. 
Ethyl became very ill with meningitis and died. About 2 months later Lillian died. Lillian died in 1930 and was buried in the Patea cemetery.
On 22 August a note was published in the Patea Mail: "The many friends of Mrs F. Ward of Kakaramea, who is at present lying seriously ill in the Patea Hospital, will learn with deep regret that her ten-year-old daughter Ethel passed away at the hospital yesterday. The deepest sympathy will be felt for Mrs Ward in her bereavement." Ethel's cause of death is given as "acute gastro enteritis, toxaemia, exhaustion". Lillian's cause of death was "Central Tumour, Coma" having a duration of 6 months. Lillian's probate document states that the net value of the estate is £480:7:2. I haven't been able to find any verification that Lillian owned property at the time she died, or any reference to her having bought or sold any property during her life. Note that in another set of notes written by Pat Heremaia, Lillian purchased a herd of cows, rather than the actual farm.
Aunty Mary and Uncle Will shifted to Taihape to stay with Mary's other sister, Aunt Kate. Uncle Will worked on the railway there until he died. They are both buried in Taihape.
The Public Trust took over the cottage in Whitehouse Lane and sold it.
In 1931 the Dolmans were listed as living in Kakaramea. In 1935 a Mary and William Dolman were living in Robin St, Taihape. William Dolman died in 1954 in Taihape and Mary Scott died in 1958.
Harold Gray, who died in 1941 and Kathleen Gray, who died in 1967  are also buried in the Taihape Cemetery.