The Ward Family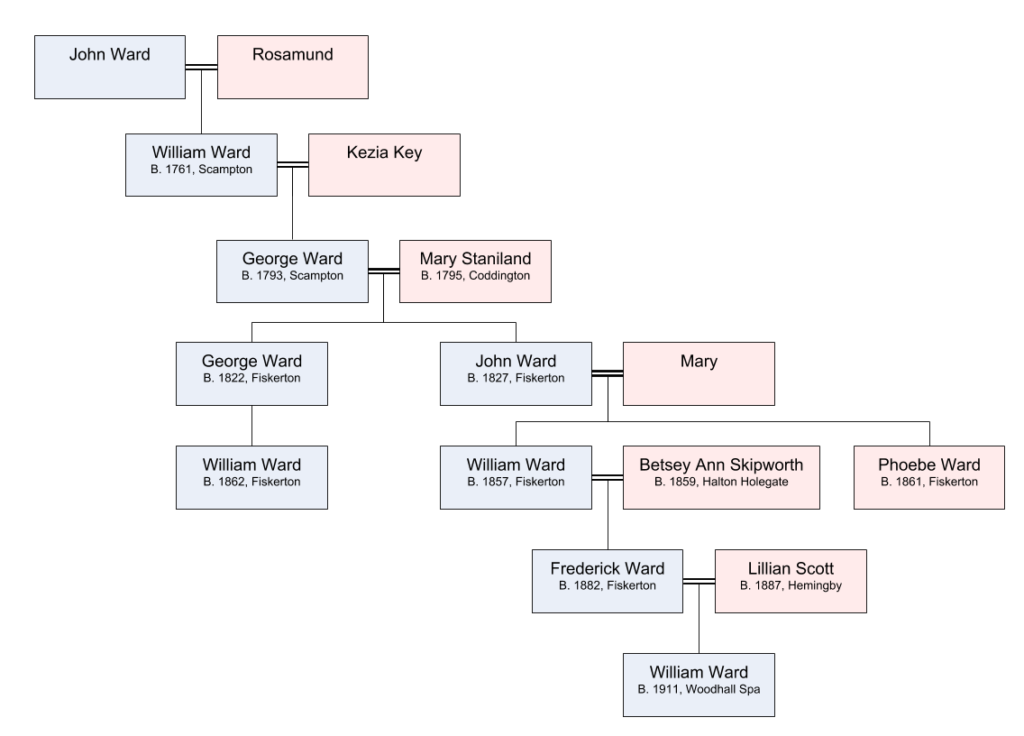 Using parish registers we can trace the Ward family back to the 3rd of May 1761, when William Ward was baptized in the village of Scampton, 5 miles north of Lincoln, in Lincolnshire, England. His parents were John and Rosamund Ward – their birth details are presently unknown. William Ward married Kezia (or Keziah) Kee (or Key) at Scampton on 29 May 1787. Four children are recorded in the Scampton Parish register – William (1788), John (1789), Phoebe (1791) and George (1793). William died in 1835 aged 74 years and Kezia died in 1846 aged 83. They were both buried in Scampton.
Their son George married Mary Staniland on 24 November 1812, also in Scampton. Mary Staniland was born in about 1795 in Coddington, a town in Nottinghamshire, very close to the Lincolnshire border. Soon after their marriage they were living about 10 miles south east of Scampton, in a village called Fiskerton. Nine of their children were recorded on the Fiskerton parish baptisim register between 1813 and 1835. George's occupation was given as a shoe maker. George died in 1854, aged 61 and Mary in 1872, aged 76. They were both buried in Fiskerton. After George's death Mary lived with her daughter Charlotte Stanfield, who had also been widowed.
Their youngest son John Ward was baptised on 25 November 1827 in Fiskerton. He married Mary (maiden name unknown) who was born in Dunston, Lincolnshire (a town about 9 miles south of Fiskerton). They had a total of seven children born in Fiskerton between 1849 and 1868, including William, who was born in 1858. Another child, Phoebe, was born in 1861 and married John Frederick Colton Rose. Their descendants (who are DNA matches with members of our family) are still living in England. They have shown us a copy of a handwritten page found in the family bible showing the names and exact dates of birth of the seven children of John and Mary Ward. 
Just to make life difficult for family historians, our William Ward had a cousin William Ward, born at around the same time (1862) in the same village. He was the son of George and Mary's son George. He was originally mistaken for Frederick Ward's father in our family tree, but a close look at the parish records and ages given on the census revealed the error. The DNA link with Phoebe Ward's descendants is further evidence that John and Mary Ward were indeed our ancestors.
In 1880 William Ward married Betsy Ann Skipworth. She was born in 1859 in Halton Holegate, Lincolnshire. She is part of the Skipworth family of Halton Holegate whose genealogy has been traced in depth and is available at http://www.genealogy.ianskipworth.com/pdf/skipsjohnhalton.pdf. DNA evidence links the Skipworths with our family. 
William and Betsy Ann Ward had three sons and two daughters recorded on the Fiskerton baptism register, including twin daughters, Phoebe and Betsy, born July 1885. Unfortunately Phoebe died at only 1 day old. The census records show that another son, George was born in 1894 at Kirkstead. Kirkstead is a very close neighbouring village to Woodhall Spa – so it's possible that at this time they were living at Witham Rd, Woodhall Spa. George Ward was the uncle that Bill Ward visited with Pat Heremaia in England in 1970. William Ward's occupation was given as a farmer in the census.
Robert Ward, another son of William and Betsy Ann, was born in 1887 in Fiskerton. He served in World War One and was killed in France in 1916. A history of his service can be read on the Woodhall Spa memorial site: http://www.memorial-lincs.org.uk/robert-ward/. Six months before his death Robert Ward wrote a letter to his brother Frederick telling him of his new found faith, pleading with Frederick to likewise give himself to God and sharing his fears that he might never see his wife and children again. The original of this letter is in the family history archives held by Vern Smith.
Frederick Ward was born 2 November 1882 in Fiskerton. His baptism in recorded in the Fiskerton Parish Register for 4 Feb 1883. He married Lilly (Lillian) Scott in 1909 at Hemingby, Lincolnshire (Lillian's birth place). In the 1911 census Frederick and Lillian lived at 90 Witham Road, Woodhall Spa with their daughter Betsey Skipworth Ward. Frederick's occupation was given as a farm labourer.
Originally in our Ward family tree Frederick's father William Ward was listed as "William John Ward" and his date of death given as 1955, buried in Reepham Churchyard, Lincolnshire. However it seems that William's middle name, date of death and date of birth were all assumed from Reepham Cemetery burial records, which have a William John Ward with wife Betsy Ann Ward buried in 1955 (aged 78) and 1952 (aged 86)  respectively. Now that we know William's actual birth year, as well as his son Frederick Ward's birth year, it is apparent that the William John Ward buried Reepham cemetery is not Frederick Ward's father, despite the coincidence of the similar names. William John Ward was only 5 years old when Frederick was born.
I haven't yet been able to find any definite death record for "our" William Ward (a very common name). Through census records we do know we was still alive in 1911. Lincolnshire records for William Ward deaths in both 1923 and 1934 match his year of birth. We do know that his wife Betsey Ann died in 1926 and was buried at Woodhall Spa.
This article is dedicated to my cousin Nigel Heremaia who sadly passed away in September 2018.