John Smith / Christina Matheson
A short history of the lives of my great grandparents John and Christina Smith.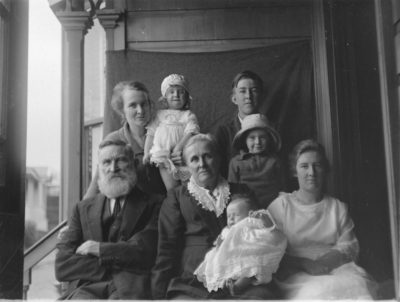 John Smith was born in 1854 in Clevedon, his childhood home "The Traveller's Rest" Inn. He was a young boy at the time of the Land Wars. Although many of the local families left the area at the time, Benjamin and Martha Smith's family stayed to defend their property and help the troops. It was a dangerous time, with several skirmishes occurring in the area and several of the locals were killed. The family home was barricaded and occupied by several local families who bedded down in every available space.
John Smith was educated at Auckland Grammar School and from there went into the carpentry trade. He was a keen photographer and took many photos of extended family and passed this love of photography on to several of his children.
In 1882 he married Christina Matheson in Auckland. Christina Matheson was the fourth child of Angus and Jessie Matheson, she was born in the Omaha district and grew up in the Matheson Homestead in Matheson's Bay.
A few years after their marriage, they purchased land at Ti Point near Christina's childhood home and family. Here they lived a quiet, rural life John Smith making a living by taking small building jobs around the district. In 1898, at which time they had 6 children, they moved to Ponsonby to give the family more employment and educational opportunities. Three more children were born after the move. Although the family were never affluent, they were meticulous with money and insisted on repaying their debts, even to close family.
John Smith died in 1936 and Christina Smith in 1938 and both are buried in O'Neill's Point Cemetery on the North Shore, Auckland.