Did I get it right?
An article by Alvin Smith containing remembrances of his grandmother Minnie Clarke, speculation on her family background and deliberations on the distinction between genealogy and family history.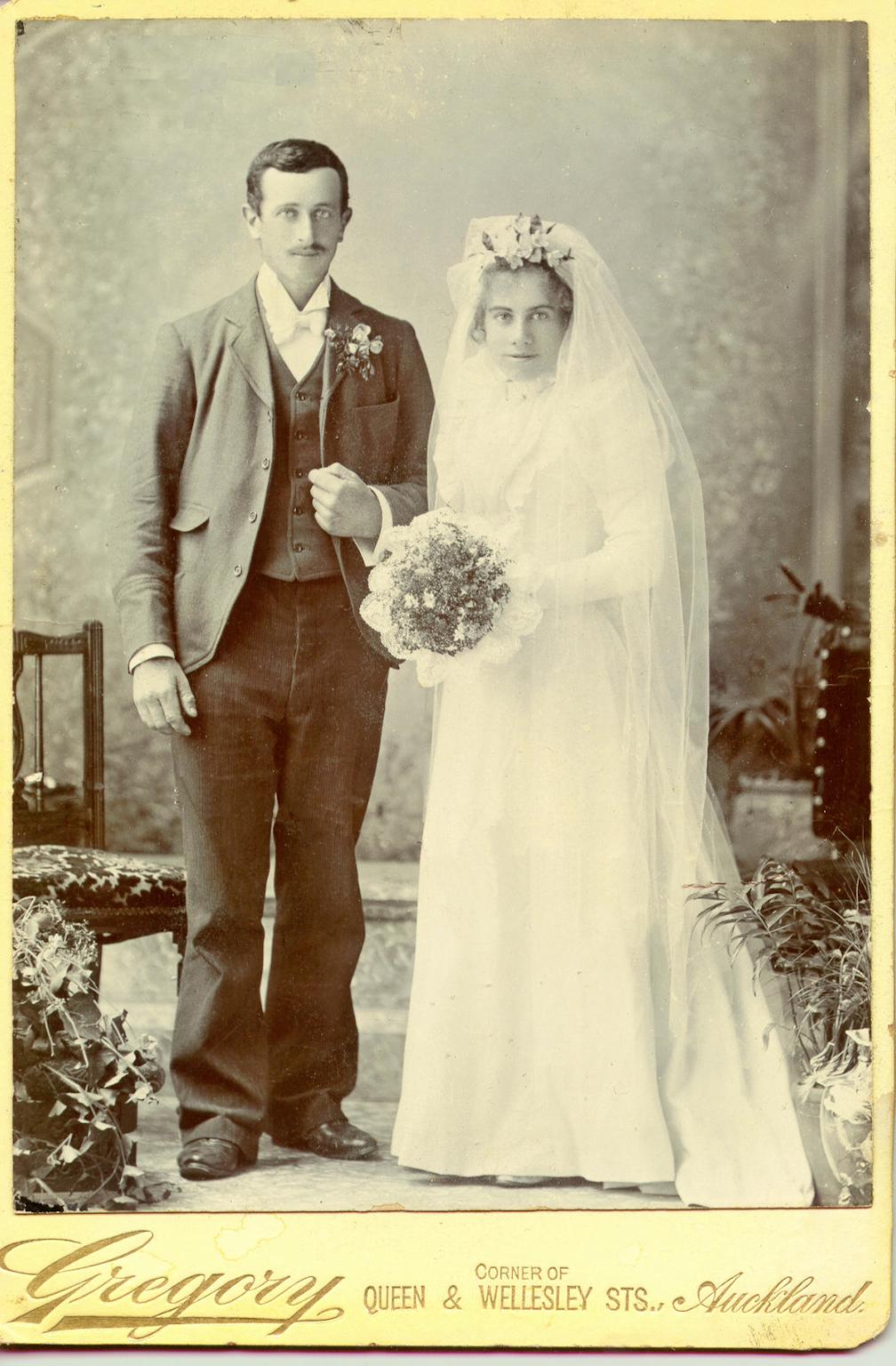 Did I get it right?
And where, from here, do you go? Out with tide
You won't, without some word that will have lied.
— Allen Curnow , 'To introduce the landscape', Early Days Yet, Penguin 1997, p. 199.
There's a huge table, it's formed from four or five kauri planks that run the length of it, butted imperfectly, and only on a special occasion is a table- cloth placed over it. Right now there's a huge bowl of rather grey soapy water, and my grandmother, Minnie, is washing the dinner dishes. I watch her and study her with the intensity of a child mastering a new grammar, and my curiosity is to continue for another twenty years. Behind her is the black wood-burning range, and a black kettle provides her with the water. She wipes her hands on her pinnie, and turns to put me to bed. It's dusk. I'm six, I guess, and I'll be bedded down on a camp-bed on the open verandah that runs the width of the house. It looks out to the west and to a sun-set sky, we look out under some of the macrocarpas – one of them shades the little building with a glass-less window which we call 'the dairy', and powders it, inside and out, with its myriads of pungent leaves – and we look out over the seven o'clock waters of the Whangateau, towards the Gum Flat, where, before my time, I'm told, the unsettled single men, many of them Dalmatians, speared and dug for the remnants of kauri gum. A man of fifty comes out from within the house, with violin and bow and a chair, and sits near the foot of the camp-bed, and, as he looks at me, brings to life nursery melodies from Lancashire England. How keenly, how accurately could a six year old have perceived this scene, and how accurately can he now, seventy years later, infer the parental fondness that infused the old woman and the old man?
The man at the foot of the bed is Joe, my mother's father, born in 1876 at Ashton Under Lyne ('perhaps the most radical and Chartist of all factory towns' see note 2), which was then a township of its own, ten kilometres to the east of Manchester itself. As a ten year old, Joe accompanied his father William to New Zealand, after his mother and many of his siblings had died of consumption. William took up land around Leigh. Family talk often rehearsed these histories, and the facts were later confirmed by documents. But the human features and the intimacies of the household are of course not in the least derived from the documentation.
I later came to recognize that the marriage between Joe and Minnie was unusual. Joe clearly came from a family that identified with the industrial poor, and furthermore he would've had no respect for the rich. The marriage photo clearly shows him impudently arrayed in a borrowed suit, imperfectly fitting. But he was a natural entertainer, quick, hilarious, perceptive, innovative.
But Minnie's father was quite different from her husband. Charles Clarke, born in 1843, was the child of a wealthy Leicestershire family drawing income from a cotton mill and from its leased-out farming estates. Charles was educated in Leicester and in France, and as a young man just turned twenty, he had migrated to New Zealand, coming out in a private cabin of his own, next to the captain's cabin. A photograph of his house in Leigh survives, three gables and a group of servants standing on the verandah. The three gables mimic those of the large Clarke house on the outskirts of Leicester. Charles married in Leigh, and there were eight children before his wife died in childbirth. Six children survived to adulthood. Minnie the second daughter was born in 1876.
His diaries make it clear that he looked upon himself as the natural squire of Leigh. The Anglican church appointed him the lay preacher, and he officiated at marriages, christenings, and burials. From the age of eighteen, he kept a daily diary, over half of which still survives in the Warkworth museum, a prosaic record of his work in Leigh, and on his farm. From the diaries I guess that his household was staid and conventional. But I later discovered that his family had its stresses. His sons were the important members of the family, and as for his daughters, in Charles's view it was to be their husbands who would support them.
There were two senior boys in the family, and these were obviously intended to carry on the Clarke name in New Zealand. He provided each of the two boys, John and Henry, with a fine sheep station at East Cape. But I discovered that the two young men seem to have quickly cut off their relationship with their father, and also with their sisters. Each man married; one marriage produced a son who remained childless, and seems not to have taken over either farm.
The girls grew and married, and it was Minnie who came to produce grandchildren for Charles. She had seven children. Charles became a regular visitor to Joe and Minnie's house, which was an hour's walk or ride from his own house in Leigh. Alas, he died when I was two, and so I've no recollection of him. But the household stories about him were a staple around the dinner table, and they paint him as staid and humourless, even at times a trifle ridiculous.
Before the time of cars, there was a steamer connexion between Auckland and Leigh and the small ports in between, and my parents with their children often made use of it. I recollect walking up from the Ti Point wharf as a youngster and Minnie and I greeting each other in a huge embrace at the back door, 'Grandma! Here I am!' Joe, her husband, died when I was nine, but she and her sons continued to run the farm.
But I now realise that their farming skill was rudimentary, though that never occurred to me till I was twenty or so. But, as a youngster, I enjoyed the farming routines. Each afternoon, the small herd, twenty or so, was brought in to the 'house paddock' by the dog, and we then moved about from cow to cow, with our three legged stools and buckets, and, leaning our heads intimately upon their flanks, we milked the cows by hand, the cows responding to our efforts with placid maternal co-operation. We emptied the buckets into the bowl of a hand-operated separator. The cream was put into a small two-gallon can, and twice a week we tied it to a sleigh and took off along the clay road to the corner, and to ultimate delivery at the Matakana cream factory. The skilly was fed to our own pigs.
But the domesticities of the house were no less interesting. While the men of the household milked, Minnie had been preparing the evening meal. Boiled potatoes and other vegetables, a huge pot of boiled cabbage, boiled so soft that it could be sliced in its pot with a bread-plate on edge. There was fish, either boiled or fried, snapper or kingfish or rockcod. There was no electric power, and heating and cooking was by the wood range. Lighting was by candle and either by a kerosene wick lamp or a kerosene pressure lamp.
As I became older I found myself becoming closer to the adult in Minnie. She seemed acceptant of everyone, and spoke no ill. At each visit she welcomed me warmly, in spite of my own outrageous adolescent certainties of taste and politics. Her exchange of letters was important, and she wrote to her daughters twice or more a week. She had placed the yet-to-be answered inward letters, awaiting her response, behind the door of the chiming clock. Each evening, after the dishes had been washed in a basin on the kitchen table, she brought out the bottle of ink and her nibbed pen and wrote her evening letter. She borrowed books from the Leigh Library, and kept her place with a finished-with letter. She was active in the temperance organisation called The Women's Christian Temperance Union3 which I now find was active in many social and political causes, and it produced a newspaper called The White Ribbon. The WCTU was effectively the fore-runner of the women's movement, and it was a powerful and effective body in many social fields. Minnie's adult sons attempted to rib her on these matters, but she blandly ignored them.
'What books have you got, Grandma?' I asked her. Dickens' novels were first published in weekly parts, and under her bed she had cartons that held perhaps several hundred of these weekly parts. In one of the big chests of drawers were the hundred or more bound notebooks of the diaries of her father, Charles Clarke. In the seldom-entered front room was a big glass-fronted bookcase with volumes that William Torkington had brought out from England, many of them on politics and political philosophy, and of course almost all of them strange to my fifteen-year old curiosity. Joe had died in 1935, and Minnie spoke to me more and more of her interests and treasures. She showed me the 'Genealogy of the Clarkes', a huge white sheet of paper that one of her aunties had sent out from England, to her father, and it purported to trace the Clarkes back to the sixteenth century. I was now about eighteen, and I hand-copied this chart, as neatly as I could, onto a heavy sheet of imperial drawing paper (30 by 22 inches), and she was mightily impressed. She showed me a book that had been published on her ancestors, Catherine Hutton and her Friends, 1895, that had also been sent out by an English aunty, and it centred on Elizabeth Cartwright, one of Minnie's great great grandmothers of the eighteenth century, an incisive and energetic figure in the counties between Leicester and London.
I also discovered that a second cousin of Charles Clarke had married Chrissie, a sister of George Eliot's (to some distress to George Eliot). Minnie also had a book of poems by one of William's sisters, which she passed on to me.
In 1951 Minnie died, suddenly. Though I was in Auckland – living away from home – I wasn't told of the death till a fortnight later. One of the aunts of the family (an in-law from Ireland) felt that she should help by 'tidying the house'. Clothing and furniture and books and papers were all bonfired in the back yard, and the settler's house that had been crammed with chests of drawers and boxes and shelving was transformed to a clean empty shell, in preparation for final sale. The genealogical loss must have been immense. There must have been carton after carton of family letters, and especially ones from England. The weekly parts of Dickens, of which there may've been say several hundred, I now see are selling in England for £750 sterling each. On the bookshelf in the kitchen, where on a summer's afternoon one could hear the mason bees working on their nests, there was one notebook written in a variety of shorthand, headed 'Private and Promiscuous', promiscuous in those days (say 1870) meaning no more than 'miscellaneous'. And I learned later that in Lancashire some of the Torkingtons had been radical journalists and this may've been the origin of the shorthand notebook.
One of the difficulties I now have is with the notion of genealogy. In the early nineteenth century, important people spoke of their pedigrees, a single line of important people. Later, there were genealogies, the attempt at a complete fan of one's ancestors. But properly to perceive a family we must also focus upon the interrelationships, person to person. It was Minnie who made it clear to me that family history is astonishingly complex and cannot fail to put many questions to the descendants. Genealogy comes to be seen as essentially the doorway to family history.
1. Allen Curnow, 'To introduce the landscape', Early Days Yet, Penguin 1997, p. 199.
2. Dorothy Thompson, >em>The Chartists, New York, Pantheon Books, 1984, p. 133.
3. See, for example, the site of the Ministry of Women's Affairs, at
www.mwa.govt.nz/pub/Celebrate110years.doc