The Missing Diaries of CS Clarke
Charles Septimus Clarke kept a diary in which he kept a record of many of the mundane details in his life. These provide a fascinating record into a setter's life. However the diaries that would track some of the most interesting parts of his life are frustratingly absent.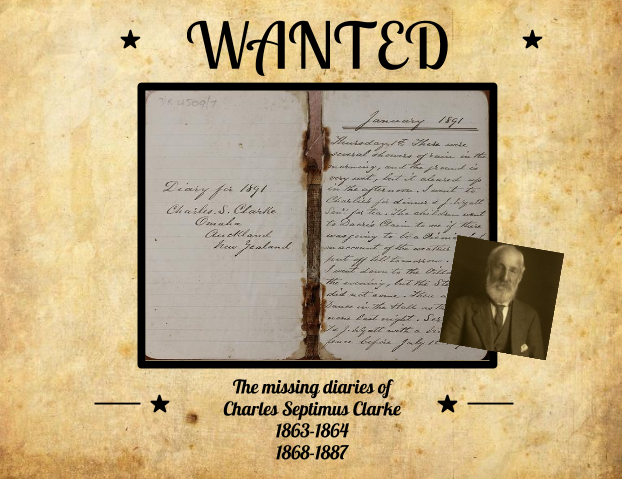 My great-great grandfather Charles Septimus Clarke was born in Leicester, England in 1843, and immigrated to New Zealand in 1863. He kept a diary that he wrote in nearly every day from the age of 19 until just days before he died at the age of 85. Mostly his days were pretty ordinary. He did a lot of things that you would expect of someone living on a farm – planting, harvesting, cutting down trees. He was a man who told things like they were, and didn't go into much analysis of events. But when you consider how little we know about most of our ancestors, it's truly remarkable to be able to read in his own words and his own handwriting what he did on a certain day 100 years ago. Frustratingly, the diaries that would contain the most interesting parts of his life – his immigration to New Zealand (1863-1864), his marriage and early family live including the loss of his wife – are absent.
We can track a little of the history of the diaries. When he retired he went to live with his daughter Jane and her husband Jim Dunning in Whangateau, and he was living there when he died. Some time after his death Jane offered the diaries to her daughter Mildred. Mildred didn't want them as she was moving, so the diaries were handed over to another of the Clarke children, Minnie Torkington (my great-grandmother). After Minnie's death in 1952 the diaries were nominally in the care of her daughter Agnes Matheson. A number of Minnie's children expressed an interest in reading them so they got split up and passed round the wider family and no doubt on to interested friends and others living in Leigh who knew of CS Clarke and were interested in the early history of the district. My father remembers his mother (Alma Smith) reading and swapping them with others in the family.
A few months after Minnie's death, Agnes Matheson received a letter from a lawyer on behalf of John Clarke (the eldest son of the Clarke family, known as Uncle Jack), a farmer living on the East Cape. This letter indicated that John Clarke thought he had a legal right to possession of the diaries based on the contents of CS Clarke's will. Anges and others in Minnie's family disputed this, as his will did not specifically mention the diaries, and after discussions with close family members they resolved to try to retain guardianship of the diaries, as they did not feel that John Clarke had a genuine interest in preserving them. It seems that the family disagreements must have eventually petered out without legal resolution, as the diaries stayed in the Torkington family. In 1976 a family history document lists the diaries and notes they were in the possession of Agnes Matheson. When she died in 1980 they ended up in the care of my Uncle Alvin, CS Clarke's great-grandson. In 1996 he handed them into the guardianship of the Warkworth Museum, where 29 volumes now reside.
The first diary covers the year of 1862 at which time Clarke was a cadet on a sheep farm in Leicester. The years of 1863 and 1864 (during which period he immigrated to New Zealand) are missing. The diaries pick up at the start of 1865 (when he was living at the head of the Leigh harbour trying to establish a farm out of the rugged New Zealand bush) and continue until October 1867. Then there is a twenty year gap – during these years of his life he got married, his children were born, he moved to Auckland, his wife died and he moved back to the Omaha district. The diaries pick up again in 1888 and continue almost uninterrupted for the rest of his life.
So what happened to the missing years? Is it possible that he just didn't write a journal for large chunks of his life? It seems unlikely given his conscientiousness at recording his daily life. It is family lore that all the diaries were accounted for at some (unstated) time in the past, though there is no proof of that as all published extracts are from the existing diaries. We have speculated on several possibilities to explain their disappearance. It's possible the missing volumes simply became separated from the rest as they were being passed between family members and are still sitting somewhere in a box in someone's garage or attic waiting to be rediscovered. We can only hope!  Alternatively, maybe they were destroyed through an accident or carelessness. Perhaps someone purposefully removed those volumes thinking they contained information that they considered sensitive. In fact it's even possible that Clarke himself may have either mislaid or destroyed them. The document compiled in 1976 lists the exact same diaries that are now in the Warkworth Museum, so we know their disappearance must have occurred before then. Considering that efforts to locate them have been ongoing for at least thirty-five years, the chances of their turning up seem increasingly remote.
It is highly frustrating that these missing years are a part of CS Clarke's life that are of great interest to us. In 1880 he left his farm and "grand" house, his many friends and busy community life in Leigh and took his wife Mary Anne and their young family to live in Auckland for 4 years. During this time 2 sons were born (one died in infancy). Eight months later Mary Anne also died. Very soon after the death of his wife CS Clarke returned with his remaining family to resettle in Leigh. This period of his life is a mystery to us.  We would love to know what prompted this this move to Auckland, but we may never know for sure. The only time Clarke references his wife in the next 40 years of his daily diary entries is in January 1899 when he received a portrait of "my late wife" which he was very pleased with. Does this indicate an ongoing grief or guilt over his wife's death that he never recovered from?
The diaries have been residing in Warkworth Museum for a number of years, and have been used for research for a number of local history projects, but many of his descendants may not even know they exist. In 2014 my own interest in reading the diaries sparked a project to digitise the diaries. My father (Vern Smith) and I made several trips up to the Warkworth Museum and took photos of every single page in the volumes held there. Dad spent the next three years transcribing them to publish on a web site.  They can now be read in their entirety at http://csclarke.falkor.gen.nz/ and there are ongoing efforts to identify and link to information about the numerous friends, family and local identities named in them.  We hope that this will make them more accessible to his descendants and others who are be interested in the history of the area. And you never know, one day we may get an email from someone who has discovered a box of old diaries in their garage!